Beginnings
In July of 1955, there was an audition for cimbalom band members announced in Myjava. The role of the bandleader was offered to one of the most respected musicians of the region, Jožka Kubík from Hrubá Vrbka. In the same month, the very first performance of the newly formed folk band took place under his leadership.
The staff of Slovenská armatúrka Myjava company, who had already danced in the Kýčer folklore ensemble from Turá Lúka, began to teach other colleagues how to perform folklore dances. When management of the company found out, they proposed to establish a new folklore ensemble together with already formed music band.
The first joint performance of dancers and musicians took place in the company dining-hall in November 1955. The following year, this ensemble performed publicly for the first time in the town of Stará Turá. After the show, its popularity began to grow. The first public show in its hometown of Myjava was lead by the world-known musician Samko Dudík.
Achievements
The ensemble's first big success was winning the 4th place in national folklore creativity contest in 1956. Since then, Kopaničiar has been a guest to many folklore festivals in Slovakia – Východná, Detva or Myjava – and all over the world. Only three years after the ensemble was established, its members traveled to Hungary to have their first full-length performance. After that, Kopaničiar visited many countries all over the world, from China to Canada.
During its activity, Kopaničiar won many awards and became a laureate of national and foreign competitions. Among others, we can mention:
Grand Prix of Mikuláš Senka in the Grand Choreography Competition – awarded in 1998, 2001 and 2018,
D. G. Lichard Medal – awarded in 2005 by the Director of the National Cultural Center,
The World Folk 2011 Absolute Victory – awarded by the World Association of Folklore Festivals (WAFF),
Gold at Vidiečanova Habovka 2013 – a national competition of folklore music bands, singing groups, singers and instrumentalists; and much more.
Our members
Each generation of managers, artistic leaders, lectors, musicians, soloists, and costumiers has shifted the ensemble one step ahead. They were able to do that thanks to their love and passion of Slovak folklore. Since the beginning, almost 500 dancers and 130 musicians played or danced in the ensemble. To call out a few, we can mention at least these outstanding personalities:
founding band leader Jožka Kubík,
musicians – Švancara brothers,
bandleader of the ensemble Samko Dudík and his brothers,
solo dancer Ján Fridrich,
head of the dance and choreographer Oľga Branišová, Ján Hojstrič,
dancers and managers of the ensemble Ján Juráš and Ľubor Hodúl,
bandleaders Štefan Bunčiak Sr., Stanislav Cibulka and Ján Michalec.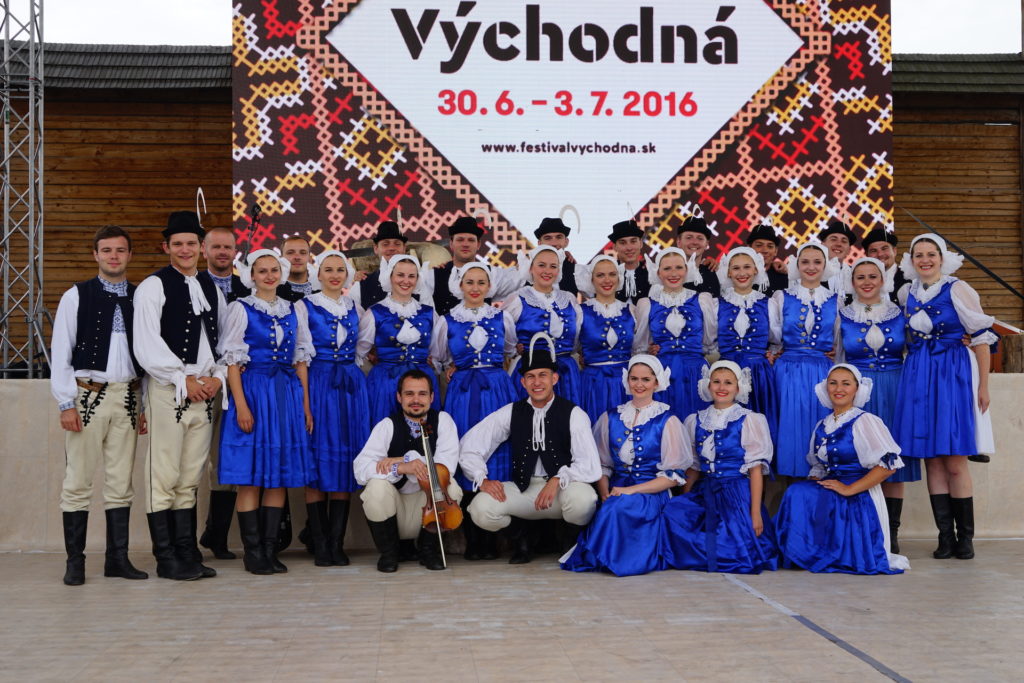 The ensemble leadership:
Martin Bunčiak – manager of the ensemble,
Róbert Madluška – head of the dance,
Štefan Bunčiak ml. – bandleader,
Anna Michalcová – costumier.
Currently, Kopaničiar consists of more than 50 members, one-fifth of them are musicians. The folklore band consists of:
Violin: Adam Foltín (first violin), Peter Hornák, Juliána Barančinová, Michaela Jakubcová
Viola: Maroš Duga, Samuel Mizerák
Double bass: Peter Kováč, Juraj Šimek
Clarinet: Lenka Durcová
Cimbalom: Benjamín Havlík
We are raising our future of Myjava folklore in the Children's Folklore Ensemble Kopaničiarik, and our former members continue with our traditions in the senior Folklore Group Kopa.
You can find out more about our history in these books: